Dootem:
Publiceret:
Veröffentlicht:
Publicated:
16. april 2014
Die Friesen verstehen – Das kleine Handbuch für Nordfriesland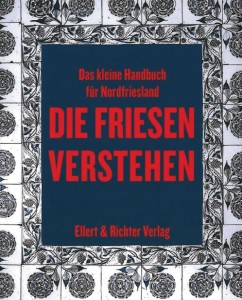 En nei buk ferklaaret fresk wurden, fresk kultüür an histoore. An at best as: Ham koon salew märiad.
Hed jam wost, wat hoker ded, wan'r "ütj a feen" lep? Of ütj wat för'n spriak at wurd "alkoven" stemet? Wan ei , do küd det nei buk "Die Friesen verstehen – Das kleine Handbuch für Nordfriesland" ferlicht widjerhalep, wat at Nordfriisk Instituut tup mä a sh:z ferlach an a Ellert & Richter ferlach began september ütjbroocht hää.
Antje Arfsten, Prof. Dr. Thomas Steensen an ik haa üs riadlisen tu't fresk auerlaanj, mä wat wi wise wel, hü smok an üngewöönelk at fresk spriak as an wat diar ales 'bääftstäät'. Wi stel fraagen tu a leeser, wat wi eftert temelk ütjfeerlik apliase. Sodenang koon ham liar, dat hoker, wat "ütj a feen" lep, ei leewen gans trau tu san partner hel…of dat "alkoven" en wurd as, wat faan arabisk "el kobbah" ufstemet, an so föl het üüs "telt", "kopel" of "gemach". Wan jam det bekäänd föörkomt, do haa jam jo fraagen ferlicht al ans bi doord leesen; auer a somer san üüs riadlisen daagelks uun jo bleeden faan a sh:z ferlach lepen.
Det nei buk bestäänt oober ei bluat ütj riadlisen; uun kurt artiikler wurd uk algemian nuurdfresk teemen föörstelt. Diar gungt at tun bispal am fresk literatüür, brüken, hüsang of nöömer. Diarmä at uug uk wat tu sen feit, hää di bekäänd komik-mooler Kim Schmidt auer a miaten fein bilen bistjüürd.
Hoker nü entelk "Die Friesen verstehen" wal, koon at jo iarst ans mä dethir buk fersjük…